It sure has been a yo-yo couple of months since our last newsletter, what with a second lockdown and enough rain for the dams to reach a respectable level.
The one thing we are enjoying seeing back again are the beautiful sunshine days of Spring, perfect for getting out in the garden again.
In this newsletter we have some great hints for looking after your eyes when Spring cleaning, solutions to fogging glasses and some beautiful new eyewear styles that have arrived.
The Story Behind The Store
Chapter 2 of our 3 part journey to show you who, why and how we are here.
Petra continued with her Dispensing qualification from 1993-1996 where she met Angela at the annual practical block course. She purchased Orewa Optics from Guenther & Margareta in 2007 and Angela joined the team soon after.
Petra embarked on another renovation in 2010, taking the shop from pink & teal (how 90's!) to todays Orange branding. Helen joined the team early 2011 following her family move from South Africa, Grant came on board soon after following the sale of his business in Whangaparaoa and Christine started as a part time receptionist in 2012.
Orewa as a community was starting to grow with new subdivisions and more families coming into the area, we started to realise we were running out of space and sanity – it was time to grow…

Spring Cleaning Your Eye Health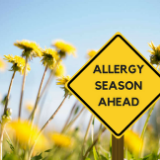 With the spring season at our doorstep, we will be lured outdoors to get some much-needed Vitamin D in this fair weather.
Many of us will take advantage of the warmer weather to finish spring-cleaning and gardening projects. Remember to take appropriate safety measures to protect your eyes.
Don safety glasses whilst using toxic cleaning agents and gardening. A common eye injury results from getting poked in the eye with flying debris or spiky foliage.

If you do get a chemical agent in the eye, do not waste time- immediately flush the eye with copious amounts of water or saline. It may mean placing your head underneath a tap or in a shower for at least 15-20 minutes. Immediately after flushing, seek urgent medical attention.

Wear gloves. Gardening and indoor cleaning means our hands get covered in soil and harsh chemicals, which can come into contact with your eyes.

Flowers will be in full bloom, which means the air will be blanketed with allergens such as pollen. These allergens can be responsible for red, itchy, and watery eyes. You can stay on top of these symptoms by;
limiting your exposure to the obvious culprits such as trees, flowers, weeds and grasses.
using eye drops to flush the eyes from any allergens
placing a cold compress over closed eyelids if you feel the need to rub your eyes;
considering switching to daily disposable lenses. Allergens can often build up on contact lenses.
Remember not to touch your eyes with unwashed hands.
Prescription level antihistamine eye drops can relieve persistent allergies.
We will all no doubt be making the most of the sunnier season. Don't forget to invest in a quality pair of sunglasses to protect against the harmful UV rays. UV radiation emitted from the sun can be linked to eye conditions such as macula degeneration, cataracts and non-cancerous to cancerous growths on our eyes.

Orewa Optics are here to help
We stock a full range of lubricating eyedrops, allergy drops, safety eyewear and sunglasses.